Nomination for IB Awards
Hello Friends and Readers,
As many of you know, and many others who don't know, let me announce that Growing with Nemit – A Mother's Experience & Expedition, (yes this Blog), has been nominated for Indian Blogger Awards, 2017.
I waited for 15 days to get nominated on Indiblogger as my blog was lacking the minimum number of posts required to get approved. Now that the blog is up there, how could I miss submitting links to my best posts in various categories? A blog can be nominated under a maximum of 5 categories.
The categories for which this blog has been nominated are –
Fitness and Health (Lifestyle)

Parenting (Lifestyle)

Self Improvement (Lifestyle)

Memoirs (Literature & Personal)

Personal (Literature & Personal)
#IBA2017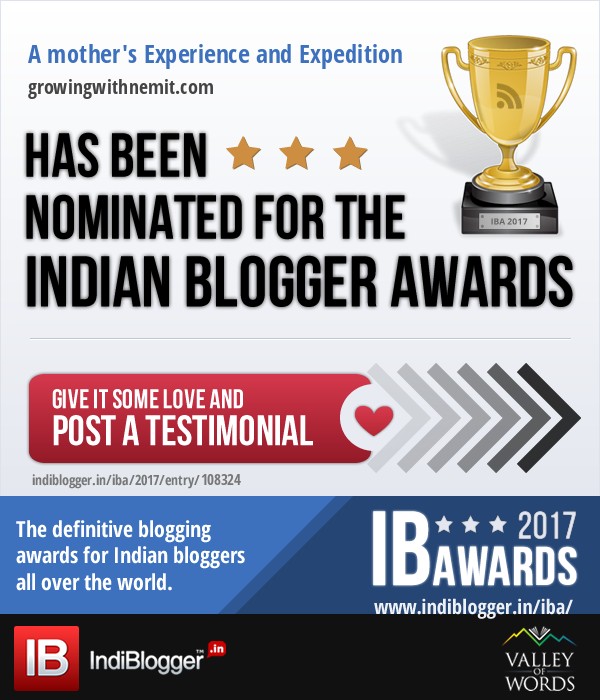 All the entries will be judged on quality, and on the testimonials received from the readers and the followers on the NOMINATION PAGE. However, the weight-age is different for both, 80% for Blog's Creativity, Originality and Quality and 20% for Testimonials.
This Blog post is especially dedicated to all my lovely readers, without your constant motivation and love, it was impossible for me to take such a big step. It's time to shower some more love and show a little more support by leaving a testimonial/comment on the Nomination Page.
---
---
Guys, please share this post with your friends and family. I really appreciate the overwhelming response I get from you all. Love!
---
---